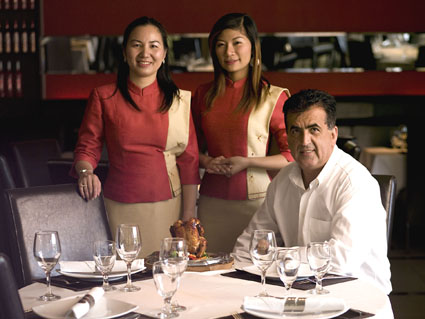 Established in 1988 Chang Thong Restaurant has earned a reputation as perhaps the finest Thai Restaurant in Auckland.
After purchasing the restaurant in 1991 Abdul has lifted the level of quality and service to bring you a unique dining experience.
Our cuisine is individual and representative of our Head Chef, Noi Nillaor. Noi commenced working for Chang Thong in 1991 and brings vast experience from Thailand where he worked in some of the finest five star hotels and restaurants including preparing food for the Royal Kingdom Family.
Early 2006, this restaurant had a well deserved renovation and is now known as "Red Elephant". Most of the restaurant's furnishings and decorations were purchased in Thailand making it an impressive up market restaurant.
Being one of the largest restaurants of its kind in Auckland, Red Elephant has a capacity to seat 120 diners an is perfect for both small and large groups. There is also a private dining area which is ideal for those special occasions.
All our staff at Red Elephant are Thai born and we aim to maintain a professional friendly atmosphere whilst you enjoy a pleasant dining experience.
The popularity of Thai cuisine has grown because of its complexity and wonderful tastes - light and fresh with delicately balanced spices and a harmony of flavours, colours and textures designed to appeal to both the eye and the palate.
We recommend you to share you dishes - banquet style. Small amounts of each dish should be sampled to gain the most from the different taste sensations.
Whatever the occasion, dining at Red Elephant makes it very special. Happy dining.